Warning
: Undefined variable $response in
/home/mtglandfall/public_html/wp-content/plugins/magic-the-gathering-card-tooltips/wp_deckbox_mtg.php
on line
123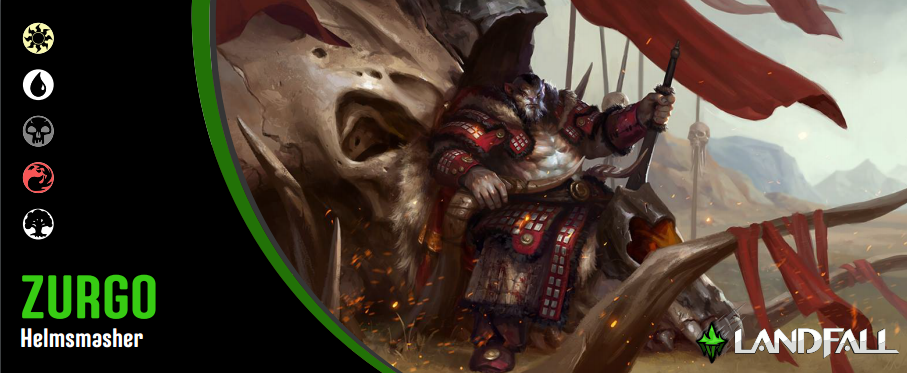 Introducción:
El mazo se centra en abusar de que Zurgo es indestructible en tu turno, utilizando cartas como Worldslayer, rompe tierras, rompe criaturas, rompe lo que sea menos Zurgo.
Comandante (1)


1 Zurgo helmsmasher



Criaturas (22)


1 Akrasan squire
1 Artisan of kozilek
1 Aven squire
1 Battlegrace Angel
1 Chandra, fire of kaladesh
1 Duskmantle prowler
1 Duty-bound dead
1 Goblin welder
1 Guardians of Akrasa
1 Knight of glory
1 knight of infamy
1 Kozilek, butcher of truth
1 Kytheon, hero of akros
1 Liliana, heretical healer
1 Nefarox, overlord of grixis
1 ornithopter
1 puresteel paladin
1 servant of nefarox
1 sigiled paladin
1 steelshaper apprentice
1 sublime archangel
1 Ulamog, the infinite Gyre



Instantáneos (10)


1 Dark ritual
1 diabolic edict
1 enlightened tutor
1 go for the throat
1 lightning bolt
1 lightning helix
1 path to exile
1 smother
1 swords to plowshares
1 geth's verdict



Conjuros (8)


1 armageddon
1 damnation
1 day of judgment
1 hymn to tourach
1 skull rend
1 steelshaper's gift
1 wrath of god
1 boom//bust



jump (0)





Artefactos (8)


1 fireshrieker
1 inquisitor's flail
1 sword of body and mind
1 sword of fire and ice
1 sword of war and peace
1 worldslayer
1 ugin's nexus
1 tenza, godo's maul



Tierras (40)


1 ancient den
1 darksteel citadel
1 great furnace
1 vault of whispers
9 mountain
12 plains
10 swamp
1 arid mesa
1 bloodstained mire
1 sacred foundry
1 godless shrine
1 blood crypt



Planeswalkers (11)


1 ajani goldmane
1 ajani vengeant
1 ajani, caller of the pride
1 ajani steadfast
1 chandra, pyromaster
1 elspeth, knight-errant
1 karn liberated
1 liliana vess
1 sorin, lord of innistrad
1 sorin, solemn visitor
1 ugin, the spirit dragon

Combos y Sinergías:
La sinergia es abusar de la indestructibilidad de Zurgo. Utilizando tutores como Steelshaper's gift, Enlightened tutor o Steelshaper apprentice, buscamos los equipos que necesitemos según las circunstancias. La idea de tener tierras artefacto no es aleatoria, esto nos ayuda a apurar la condición de metalcraft para utilizar la ayuda de Puresteel paladin y equiparle todo a Zurgo antes de llevarlo a combate.
Condición de victoria: 
La condición de victoria de este deck es eliminar bloqueadores de nuestro oponente, utilizando Wrath of God, Damnation y Worldslayer, o la ayuda de nuestros caminantes como Ajani, caller of the pride para dar volar y double strike a Zurgo, o Chandra, Pyromaster para dejar una criatura oponente sin posibilidad de bloquear. Una vez que zurgo pasa con worldslayer, el resto del juego se hace… digamos fácil.
Palabras finales:
Probé este deck durante mucho tiempo como un mazo multiplayer, hasta que en una ocasión lo probé en duel casual y noté su potencial. Aún me faltan algunos cambios para afinar el deck, no he revisado las ediciones más nuevas, seguro habrá algo que me ayude a mejorarlo.
– Federico Rengifo
Este mazo fue enviado a través de nuestra página web. Tu también puedes hacerlo en el siguiente link